INAUGURATION OF THE EXHIBITION "CÁTEDRA GAUDÍ" AT THE "ILLA DIAGONAL"

The Cátedra Gaudí loans five of the architect's original plans for the exhibition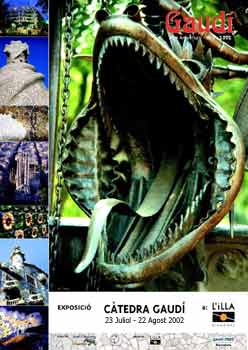 Organised by the Gaudí & Barcelona Club and sponsored by the Real Cátedra Gaudí, the exhibition follows a route through the versatile work of the illustrious architect, based on models, plans, furniture, ceramics, wrought iron and other pieces which may be seen at the "Illa Diagonal" centre, until 22 August. Outstanding examples of the exhibits include the original signed plans of the Güell Park and the Milà House, the bust of Gaudí sculptured by Joan Matamala and one of the possible Sagrada Família bell.
Given its special location in the Illa Diagonal shopping centre, the exhibition is expected to attract a huge affluence of visitors.
The presentation will count on the intervention of Professor Joan Bassegoda, Director of the Reial Càtedra Gaudí, Daniel Giralt-Miracle, Commissioner of the International Gaudí Year 2002 and Eduard Solé, Chairman of the Gaudí & Barcelona Club association.
The Reial Càtedra Gaudí, linked to the University of Barcelona and the Polytechnic University of Catalonia, possesses a considerable documental and graphic archive, a library housing more than 15,000 volumes and a Museum of Architecture which forms part of the International Council of Architectural Museums.
On the occasion of the International Gaudí Year, the Cátedra has loaned a number of pieces to exhibitions held in the Barcelona Centre for Contemporary Culture, the National Art Museum of Catalonia, the Caixa de Catalunya Foundation, the Santa Mónica Art Centre, the Picasso Museum, the International University of Catalonia and the Reina Sofía National Museum Art Centre in Madrid. Now, with this exhibition, it has decided to exhibit some of its most valued pieces.

More about the Gaudí & Barcelona Club
The Gaudí & Barcelona Club association is a non-profit entity created to disseminate the life and work of Antoni Gaudí. The association's starting point was the creation, in 1997, of the Club in the web-page www.gaudiclub.com which you can join free of charge, enabling you to receive the latest information on all topics related with Gaudí and his life. The club currently boasts 6,000 members worldwide.
REMINDER
EXHIBITION "CÁTEDRA GAUDÍ"
From 23 July to 22 August 2002, at the Illa Diagonal.
PRESS CONFERENCE AND INAUGURATION OF THE EXHIBITION
Day: 24 July
Time: 13 h
Place: Hall of the Illa Diagonal
An aperitif will be offered to those attending on conclusion of the presentation

FOR FURTHER INFORMATION:
GAUDÍ CLUB PRESS
Josep Giralt
Telephone: 93 415 25 66
Fax: 93 415 30 33
E-mail: press@gaudiclub.com
P.O. Box 9120 / 08008 Barcelona
GAUDÍ 2002 PRESS
Marta Pérez
Telephone: 93 316 10 59
Electronic address: premsagaudi2002@mail.bcn.es