Was found in the interior of a statue in 1951
It belongs to one of the three buildings that the catalan architect created outside Catalonia.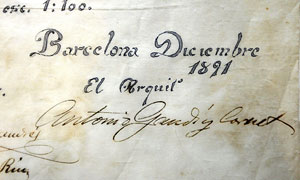 Authentic signature of the architect on the drawing of the Botines building
LEÓN.- 57 years have had to pass before the drawing made by Antonio Gaudí to design the Botines de Leon building, the head office of Caja España, was exposed. The document was found in 1951 inside the statue of Saint George, which forms part of its facade.
Its significance lies not only in the very nature of the document, but also in the door it leaves open to the possibility that Gaudi might have hidden the rest of the drawings of their buildings, as explained by the director of the Documentation Centre, Manuel Carriedo.
The Welfare Fund of Spain discovered the sketch within one of Edificio de Botines own samples, one of the three which Guadí created outside of Catalonia and which illustrates the main actions of the entity on behalf of Heritage and the Environment.
The document had already been exhibited in New York in the 1960's and since then had remained hidden within the financial institution. In 1983 the Catalan architect placed it in a tube inside the arm of the sculpture of Sant Jordi, which is located upon the main entrance doors. Upon removal of the statue due to its deterioration, the piece was destroyed and from within it appeared the drawing together a manuscript of Gaudí´s, in addition to two newspapers from the era. Since that date, in 1953, a replica of Sant Jordi was placed above the door, but not before planting the seeds of a controversial rumour according to which an image of the Virgen del Camino was to be sited.