Joan Bassegoda
..
VATICAN'S HIGHEST DECORATION TO JOAN BASSEGODA, GAUDÍ'S ARCHITECT

The curator of the Royal Gaudí Chair receives the Cross"Pro Ecclesia et Pontifice"
This is the 35th year of Mr. Bassegoda's task as the leading architect of the Cathedral of Barcelona
.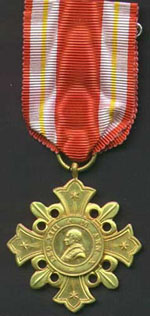 Cruz Pro Ecclesia et Pontifice. Clica en la imagen para ver su dorso
..
Barcelona, May the 6th of 2003- The architect and professor Joan Bassegoda i Nonell will be awarded next monday, May the 6th, with the Cross "Pro Ecclesia et Pontifice", granted by Saint Father in honour to his works during all his professional carreer as architect of the Barcenola's Cathedral as well as other important buildings related to Gaudí.
The ceremony will take part at the Choir of the Sait Church Cathedral Basilica of Barcelona on 19 of May at 7,30 p.m and will be chaired by Mr. Cardinal-Archbishop of Barcelona, Ricard Maria Carles. After the presentation of the Cross, there will be an organ concert.
The Cross Pro Ecclesia et Pontifice was created on 17 of july in 1888 by the Pope Lion XIII,125 years ago, in orther to recognise the merits of priets o seculars, men or women. It is the highest la decoration granted by the Vatican, without being a chivalrous honour -not a noble title-.
It just happened that Joan Bassegoda celebrates this year his 35th aniversary leading the Reial Càtedra Gaudí and as head architect of the Barcelona's Cathedral.

From Gaudí & Barcelona Club Association congartulate warmly our friend, collaborator and teacher because of this speciall awarding.