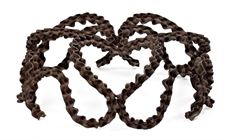 A piece of wrought iron of Antoni Gaudí, the first that can be purchased in Spain in twenty years, went on sale in early March with a starting price of 120,000 euros.
This is a cap covering the hole that served to supply the work of the Holy Family of water, and was designed by Gaudí between 1910 and 1911 so that you could see the well providing fall protection.
The piece, Art Nouveau presents undulating organic forms and characteristics of the architect and, if viewed from an overhead perspective, one can distinguish three hearts that evoke the Holy Trinity.
The provenance of the piece goes back to the Civil War when the temple was abandoned during the wave of anti-clericalism and to prevent plundering, one of the smiths who worked with Gaudí, Gerard Alegre, decided to take cover before the end of casting.
The piece remained guarded in his studio until in 2000 his son, Pere Alegre, sold to current owners who have decided to auction it.