The Vatican particularly values the "worldwide repercussions" of this act.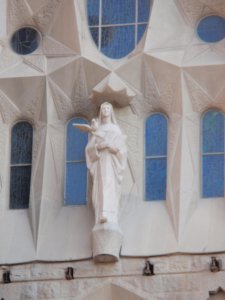 Pope Benedict XVI might inaugurate the central nave of the Expiatory Temple of the Sagrada Familia in Barcelona on the 7th of November, with the first Eucharist service to be held in the basilica, which would simultaneously serve as religious consecration of the work conceived by the architect Antoni Gaudí. According to sources from the magazine "Catalunya Religió", the Church of Barcelona has been working "discreetly" for months to make the papal visit a reality, a possibility which the Vatican views positively.
The president of the Sagrada Familia Board of Trustees, Joan Rigol, indicated in statements to Ep that "arrangements are being made", although he did not officially indicate any specific date.
According to "Catalunya Religió", the Vatican particularly values the "worldwide repercussion" of such an act, held in a monument visited by more than 2,5 million tourists each year, whilst recognising that the presence of the Pope "would reaffirm the Catholicism of the temple".
The President of the Pontifical Council for Culture, Gianfranco Ravasi, will have positively evaluated this option during his stay in Barcelona last January, although it will not be until 25th of April that the Vatican Secretary of State, Tarsicio Bertone, comes to the Catalan capital for the beatification of father Josep Tous, at which time the visit may be confirmed.
It appears that the date of the autonomic Catalan elections planned for the autumn may influence the final date of the Pope's visit, given that the intention would be to not interfere with these elections.
Source: periodistadigital