The number of visitors goes down by 27% and the budget is of 18 million euros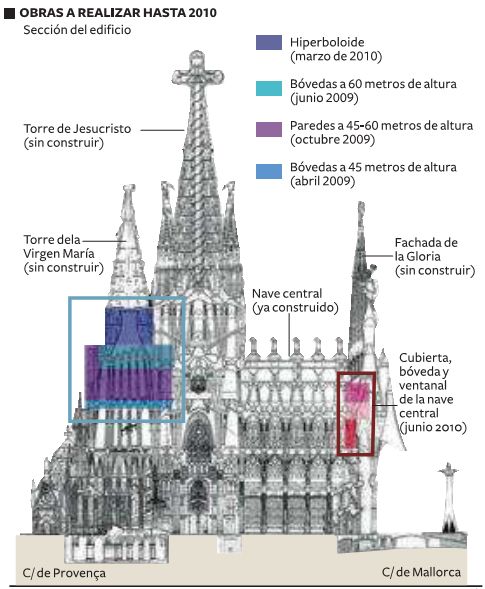 When building works take forever and it seems as though they will never end, the popular saying says that "they are taking as long as those of the Sagrada Familia". Joan Rigol, president of the preservation society, yesterday confirmed that this could no longer be said from September 2010. In fact, the building work will be finished before then.
"In august the organ which is to be placed in the apse must be tuned and this cannot be done with building work going on", said Rigol, who couldn't specify whether when it opens for worship payment would also be required for entering. "The Sagrada Familia will not be a parish church; it is a building with a universal vocation. We will hand it over to the archbishopric and they will decide how to use it".
While waiting to see if the same will be done as with the cathedral, in which entry is only free at the times of mass, the income of the expiatory temple is not in danger despite the economic crisis. In February the decline in the number of visitors continued (some 27% less), but those responsible on the board are confident that the year will end with an average decline of just 15%, sufficient to maintain the rhythm of the building work, on which 120 people are working and which this year has a budget of 18 million euros.
From Monday, an enormous crane will lift pieces of the formwork which were manufactured in Gaiŕ (Bages) 45 metres high in order to build the concrete and Murano glass hyperboloid which will provide the apse and main altar with light. "It will be assembled, if there is no wind, like Meccano", said the project manager, Ramon Espel. This structure will form the base of the Torre de la Virgen (Virgin's Tower) and within it there will be a pantocrator, also of Murano glass. The change will be spectacular, said Espel, when they begin to disassemble the five kilometres of scaffolding which occupy the interior.
The main nave, the stone cross, the transept and the apse are all almost finished, pending the joining of the large windows and the vaults with the towers of the Gloria facade (on Mallorca street). On the stone cross, the 25 lanterns that will illuminate it are complete and work is being done of the structure that will support the Jesus Christ tower, which will be of 173 metres, (two metres less that Montjuďc, as Gaudí thought that human work could never exceed that of God). Jordi Bonet, chief project architect, explained that the archbishopric is working on the furniture for the liturgy, such as the seating for the choir, the pulpit and the altar, which will be made with a three metre block of porphyry.