Our member from El Salvador, JORGE ALBERTO ALARENGA ZALDAÑA, mosaic artist, builder of waterfalls and gardens. With 27 years working in ceramics, he sends us some of his work inspired by Gaudí.
Some 27 years ago, I started up a workshop for ceramics of all types for the home, such as crockery for the kitchen, decor for the home and garden, amongst other things, and around eight years ago my attention was drawn to mosaic work and I began to teach myself this craft, and I found techniques to work the mosaics, amongst them traditional mosaic art and the art of trencadís (pique assiette) from the maestro Gaudí, and when practising them I managed to create work following these guidelines in such a specific way that I combined my knowledge of the mosaic technique with that created by the maestro Gaudí and my own experience in ceramic work, all of which has been self-taught. I have spent these last eight years creating close to 15 Sacred Art murals or mosaics, and in the last year I have taught three other associates. I have only worked in my country of El Salvador, both for private clients as well as creating temple murals for the Catholic Church, using materials such as fragments of ceramic china, Murano glass, gold, silver and mother of pearl finishes, on china fragments, which has allowed me to give each work I created its own unique touch. For my current work, the mosaic art and maestro Gaudí's trencadís have been my inspiration in order to develop this art little by little, each day trying to discover new applications and ideas to create new projects. It has been somewhat difficult as both the economic situation as well as the lack of art appreciation in our country, have not allowed us to develop the work in the way we would have liked. Currently, we are building other animal figures as water fountains and ponds, using this Gaudinian technique. And we have other murals in progress, some in temples. I work with a team of four people to whom I have tried to impart my knowledge so that this art can be diffused and not lost. Even if the difficulty of the current economic situation does not allow us to develop how we would like with the construction and creation of new art projects by applying these mentioned techniques, me and my team are working to spread awareness of this type of work which is not very popular in our country.
Work motto: "Patience, slow down because we are going fast, our hands hurt, the skin on our fingers split, we bite ourselves and we bleed, but in the end, look, enjoy, it was worth it my colleagues, my friends, it was worth it." Jorge Alvarenga. Mosaic artist.
Garden decorated with two mosaics using classical mosaic technique, a quetzal and a "torogoz" (Motmot bird) and also a turtle fountain from which water flows created using the Gaudinian technique.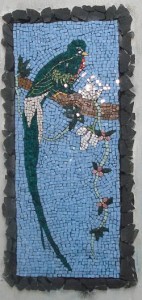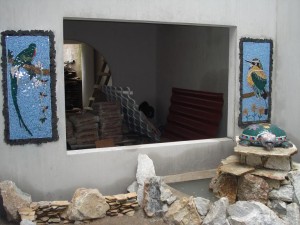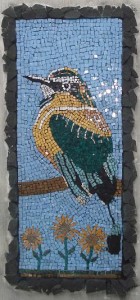 Full view of the turtle fountain created using Gaudinian technique, the bird mosaics I also created using the old mosaic technique with tessalas of 1cm or less, the fountain is built on marble or quartz rocks which are found in a mine in my country of El Salvador. The birds are a Quetzal and on the right a Torogoz, known as the national bird, and both of which can be seen in our forests. View from above of the turtle from whose mouth the fountain water flows. Created using Gaudinian technique.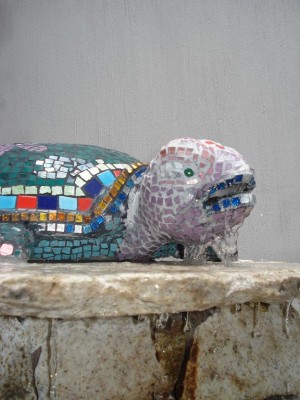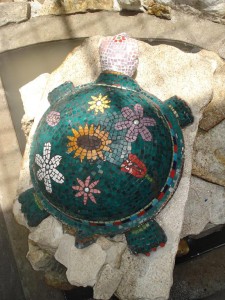 View of the turtle's head from whose mouth the fountain water flows, similar to the dragon of the Guell Park, the turtle was built with tessalas of ceramic material and Murano glass, following the technique of the maestro Gaudí.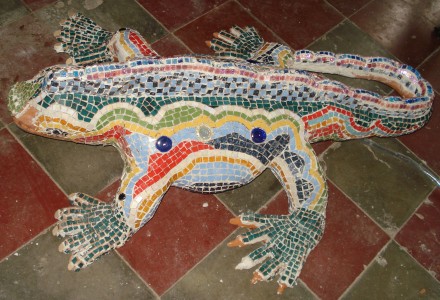 DHere I am installing a 25m2 mosaic in triptych of the crucifixion of Jesus Christ in a town known as Aguilares, San Salvador, El Salvador, in a parish temple known as "El Señor de las Misericordias". I have combined both techniques, the classic mosaic art and Gaudí's trencadís, using fragments of ceramic china.
Rocky garden which I built in the Retiro María Eugenia house in Los Planes de Renderos of San Salvador, El Salvador, using volcanic rock from my country..
Mosaic fountain built in the La Resurrección parish, San Salvador. Constructed using both trencadís and classic mosaic techniques, using fragments of ceramic china and natural slate stone.
Thank you very much, Jorge!!!

---